Our Latest News
New Lancashire Hundreds Postcard
8 June 2020 08:58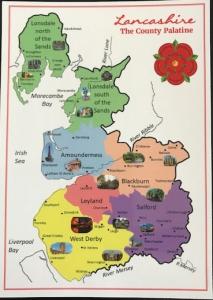 A New Lancashire Hundreds Postcard in mulit colours as been produced and is on sale for 40p each, showing locations through Lancashire. To buy go to our online shop.
Hundreds
By the eleventh century all of England south of the Tees had been shired.
It is believed that each shire was based on a "burgh", which acted as a major functional unit in the prevailing system of local government.
The Shire was sub-divided into smaller units, the Hundreds, to facilitate the collection of taxes and the enforcement of law and order, which were administered through Leet-Courts.
Court-Leet (Olde English – "Lathe" – a district of a county) – a Court of Record held in a Manor before the Lord of the Manor (or his Steward) – who had the right to hold such Court.
The Hundred Courts or Wapentake Courts as they were commonly called in Lancashire were subordinate to the County Court, which sat in Lancaster.