RT @Platinum2022: The Queen is now the third longest reigning Monarch in recorded history. On May 9th 2022, she overtook Prince Johann II o…
Our Latest News
250th Anniversary of the Leeds and Liverpool Canal
13 November 2020 08:47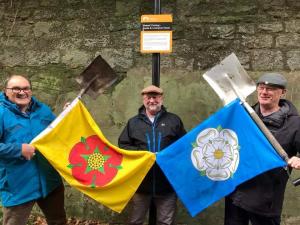 Friends of Real Lancashire celebrate the 250th anniversary of the Leeds and Liverpool Canal..
Friends of Real Lancashire an the Yorkshire Ridings Society held an armistice in the so called Roses Rivalry when they cam together to celebrate the 250th Anniversary of the Leeds and Liverpool Canal.
This year 2020, the canal celebrates two important events. firstly the passing of the Act of Parliament in May 1770 which authorised construction, and secondly the cutting of the first sod on the 5th November 1770.
Philip Walsh, Chairman of Friends of Real Lancashire recently undertook the 129 mile walk on the canal towpath from Leeds to Liverpool Docks over 10 days in aid of local childrens charity Derian House raising over £1300.
Philip said, "While I was aware of the special anniversary it wasn't until I reached the Halsall cutting in West Lancashire that I saw the sign explaining that the first sod was cut there by the Hon., Charles Mordaunt of Halsall Hall. I decided that the anniversary couldn't be missed without some sort of celebration."
However the pandemic restrictions put paid to anything other then a mock sod cutting. With lockdown restrictions changing all the time and with members of the Yorkshire Riding Society unable to cross the border into Lancashire, Philip called upon a friend and proud Yorkshireman, Jim Rowley, now living in Lancashire, to help him. Jim who was born in Dewsbury is a Preston City Council mayor's attendant.
Philip said,"When we both worked at Preston City Council, there was plenty of banter between the two of us. When I asked him if he raised the Lancashire Flag on the Town Hall on Lancashire Day, he said with a smile that he had done so but reluctantly."
Lancashire Dialect expert, Sid Calderbank of the Lancashire Society joined them. Sid is more aware that others of the rivalry that exists between the two counties. Sid organised the National Dialect Festival last year. Sid said,"With shovels in hand, it was a good job I was there to ensure the two rivals were socially distanced at all times!"
William Froggatt, Heritage Adviser of the Canal and River Trust added,"It's wonderful to see friends from Lancashire and Yorkshire societies celebrate this important date in the building of the Leeds and Liverpool Canal. The Canal is still as important today as it was when it first opened - just in a different way. Now instead of being a route for transporting goods, it's a haven for wildlife and a beautiful place for people to use for walking, cycling, canoeing and of course boating. Research has shown that spending time by the water is good for people's well-being and we've seen a real increase in people using the towpath as part of their daily exercise."